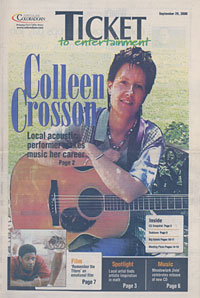 Colleen Crosson never really had a career. Instead, she had a job that supported her musical habit.
She stresses that she had a job.
"After (local band) Hot To Go broke up last year, it was really time for me to go solo again," Crosson said. "I'd been doing the safety in numbers thing for so long... So in the past year, I finally quit my day job and am doing music full time."
Her job was working with animals at the Colorado State University Veterinary Teaching Hospital. Now, she performs acoustic shows regularly in town and teaches younger musicians what she's learned during the more than two decades she's been making music.
"I never really thought I could do music as a career," Crosson said. "But I've always dreamed of doing just music."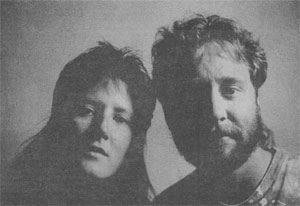 Crosson was raised around music. Her paternal grandmother was a singer who performed at Carnegie Hall.
"I like to think my musical career started when I was a kid," Crosson said. "Even when I was a teenager I played at coffee houses."
She moved to Fort Collins in 1977 and started singing at the Town Pump.
"We started performing as the band Moose Scat," Crosson said with a laugh. "It was a beginning. Then I started playing with the country band Rounder. They're still playing around town. I rejoined them last year for a 20-year reunion."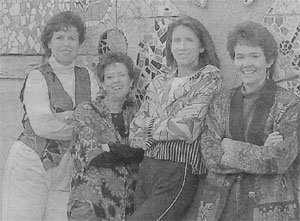 Crosson also performs with the group Our Mothers' Daughters, and spent time with Hot To Go.
"A lot of the singing I've done in Colorado has been harmonies," Crosson said.
One performer Crosson especially enjoyed performing with was Bob Hollister, who is returning to Fort Collins this week to reunite on stage with Crosson.
The two will perform at 7:30 p.m. Sunday at Avogadro's Number. They will also perform with Liz Barnez and Kevin Jones on Tuesday at the Sunset Event Center.
"Bob called me about a month ago," Crosson said. "He was going to be attending a yoga conference and thought it would be fun to perform together again. Singing with Bob was great. Our voices just blend so magically together. I'll always have a warm spot in my heart for performing with him. It's going to be fun."
"I've come back each year and done a small gig," Hollister said. "Just kind of for fun. This is going to be more, I don't want to say serious. But I made a concerted effort to get together with some old friends, some people I admire, and put together some nice shows. I guess I've been missing it."
Hollister and Crosson performed together regularly from 1992 to 1996, until he moved to Montana.
"I actually have known Bob for more than 20 years," Crosson said. "We did some jamming together in the late '70s. But it wasn't until about 1992, maybe 1991, that we met up again. I heard him playing at the Patio Café, which is now Zydeco's. He was doing a show there and asked me to come up and sing a few tunes with him."
After performing as a duo, Crosson and Hollister added Steve Trisman on fiddle. Then the trio grew into the Bob Hollister Band after adding Mark Anderson on drums and Bruce Landry on bass.
"As a group, we recorded two CDs," Crosson said. "We had a lot of fun working together."
Now, Crosson plans on recording her own CDs.
"Our Mothers' Daughters just finished recording a CD," she said. "We hope to have that out by the holidays. And I'd like to do some solo CD projects."
She also plans on working musically with her husband, local pianist Mark Sloniker.
"(Mark) has been writing some vocal tunes, which is something different from the all-instrumental music he usually does," she said.
She also performs monthly at the Moot House and the Rocky Mountain Coffee Connection.
"The type of music I enjoy performing most is the new acoustic, the folk kind of stuff," Crosson said. "Although I love singing other genres, like jazz with Mark. But when it comes to what I love to listen to and love to sing the most it's new acoustic, like in the vein of David Wilcox."