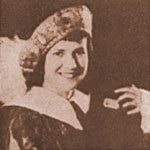 It all started with "Nana", Colleen's paternal grandmother – this musical journey and the gift of song. Colleen's earliest memories are of breezy summer days at the Jersey Shore, cuddled in Nana's lap, softly crooning love songs by the sea ("Somewhere My Love" remains a favorite…). Years later, it was belting out show tunes around the family's baby grand – "Mame" and "Hello Dolly" and songs from the "Sound of Music", and, of course, big family gatherings around the holidays with hours of Christmas carol sing-a-longs.
After 5 years of rather unproductive piano lessons, Colleen's parents bought her a guitar when she was 12, with S&H Green Stamps accumulated from trips to the grocery store. She took some lessons from a long haired hippie (Don McLean's "American Pie" was the first song she learned) and knew this was her instrument – at least, the one to accompany her "main" instrument – her voice.
During high school, she and her sister, Holly, performed at a few local coffee houses and private events, playing their favorite songs of Joni Mitchell, the Beatles, Cat Stevens, CSNY, and Dan Fogelberg. The allure of the Rocky Mountains brought Colleen to Fort Collins, CO in 1977, where she attended Colorado State University, studying first, Wildlife Biology, and then Anthropology (with a mere 2 music classes over a 5 year span!). Obviously, formal music training was never her thing – the clubs and bars of Northern Colorado being her training ground, with other acoustic musicians she met up and performed with.
While Colleen continued to play music throughout her college years and beyond, both as a solo performer and with various bands, she wasn't convinced she could do it "for a living", and always kept that "day job" – that is until 2001, when she finally took a leap of faith, with the encouragement of her husband, jazz pianist and composer, Mark Sloniker, and launched into a full time music career. She's never looked back!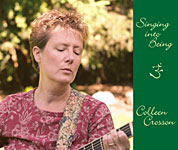 Colleen is excited to announce the release of her first solo CD, "Singing Into Being", featuring the talents of Mark Sloniker (piano), John Magnie, of "the subdudes" (accordion), and Grammy award winning bassist, Gene Libbea, among others. It is available for purchase on the listen/buy CDs page.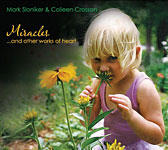 Her first collaborative CD project with husband Mark Sloniker is also available now! Twelve original songs straight from the heart, about love, life, family, community, and pondering our purpose on this earth.


For a more detailed bio of Colleen's professional music career in Colorado, read on:
Vocalist/guitarist Colleen Crosson has been performing in Colorado and surrounding areas for over 35 years. Her musical styles are diverse, ranging from new acoustic/contemporary folk to jazz, country, gospel, bluegrass, and rhythm and blues/rock. She has performed with numerous groups over the years, including the country band Rounder, the R & B/rock band Hot to Go, the a cappella group, Our Mothers' Daughters, (who released a CD, "Carry On" in 2001), and the Bob Hollister Band, with whom she recorded 3 CDs (most recently in 2003), and won 2nd and 4th place in the Telluride Bluegrass Festival Band Contest (1993 and 1994). She currently performs solo (vocals and acoustic guitar), as well as with her husband, keyboardist Mark Sloniker.
In 1999, Colleen was presented with the Choice Music Award for "Outstanding Contributions to the Fort Collins Music Community". With her various groups, she has opened for David Wilcox, John Prine, Jonathan Edwards, and Cheryl Wheeler, and has performed solo with Tom Kimmel, Carrie Newcomer, Cliff Eberhardt, Justin Roth, and Catie Curtis. Colleen has performed with the Fort Collins, CO Symphony Orchestra and also sings regularly with Wisconsin performing songwriter Johnsmith when he is touring in CO.
Colleen's harmony vocals can be heard on several other artists' recordings, including Barbara Clark's "She Won't Wait", Rabbi Jack Gabriel's "Eagle Wings" and "Living Tree", Taos recording artist John Daly's "A Piece of My Life", and Gregory Long's "Padma Thunder".
In recent years, Colleen has realized her passion for sharing her musical gifts in spiritual, as well as secular, settings. She served as Director of Music Ministry for the Whole Life Church of Religious Science in Fort Collins, CO from January 1994 to March 2001, and Co-Director of Music (with husband, Mark Sloniker) at Unity of Fort Collins from 2001-2014. As part of her music ministry, she has been invited to perform in churches across the country, including Mile Hi Church of Religious Science in Denver, Unity of Salt Lake City, Utah, the Anchorage Church of Religious Science in Anchorage, Alaska, and the Whole Life Church in Lake Oswego, Oregon. In 2001, she helped lead morning services for 600 chaplains of various faiths at the Association of Professional Chaplains National Conference in Denver, CO. She has provided music for the Dances of Universal Peace.
Colleen is dedicated to the spirit of service in her life, and has donated her time and musical gifts to many local organizations, including Fort Collins United Way, Schools for Chiapas, Hospice of Larimer County, Project Self Sufficiency, the Rocky Mountain Raptor Program, Alternatives to Violence, The Women's Center, Habitat for Humanity, KRFC Community Public Radio, The Peace Alliance, The Food Bank for Larimer County, Neighbor to Neighbor, Sustainable Schools International and other environmental, social, and political causes.
Colleen also offers private guitar and voice instruction, and children's singing classes at her music studio in Fort Collins, CO.